Overview
The City of Edinburgh Council, University of Edinburgh, NHS Lothian and Scottish Enterprise are working together to improve cycling and walking between Cameron Toll and Little France – a key route connecting  Cameron Toll Shopping Centre and all the facilities at Edinburgh bioQuarter including the hospital, medical school and research park.
Our aim is to encourage more people to travel along this route on bike or by foot. Proposals have been developed to provide segregated facilities which separate pedestrians and cyclists from road traffic. The route will form part of Edinburgh's Active Travel Network.
Key Design Objectives
Create a safe and attractive high-quality active travel route.

Provide enhanced pedestrian links and crossing points along the route.

Provide a segregated bi-direction cycle route, separating cyclists from traffic and pedestrians.

Enhance connection points to existing walking and cycling routes.

Implement a high standard of design for cycle infrastructure

.
View before and after images of key elements of the design:
View 1 Craigmillar Park Junction
View 3 Old Dalkeith Road - Inch Park
View 4 Craigmillar Park Estate Cemetery
View 5 Old Dalkeith Road - Ravenswood
View 6 Old Dalkeith Road - Kingston Avenue
View 7 Craigmillar Castle Road Junction
View the preliminary drawings for the Cameron Toll to bioQuarter route.
Route Overview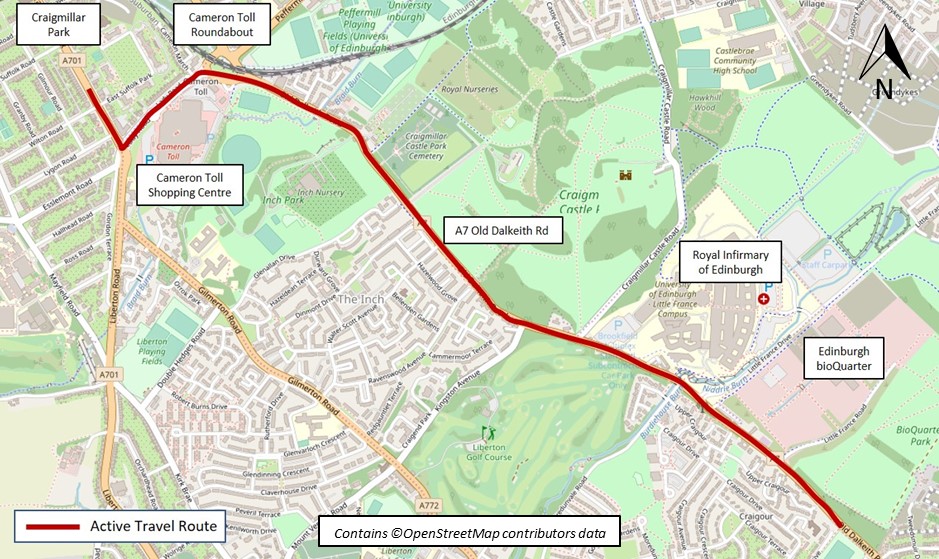 Please click on image to enlarge.